This is story of a boy who was "allegedly" punched by a traffic police constable.
Now lets see how two news source report it
A student from Baldwin Boys College in Bangalore was in for an unpleasant surprise when a cop stepped up to him and punched him straight in the face after he was caught answering his phone while waiting at a traffic signal.
So per NDTV, this innocent boy was waiting at traffic signal. Gets a phone call. A cop sees him answering the phone and decided to punch him straight on face.
Now comes the interesting part as religious sentiments are brought in. NDTV reports
Mohammed Shafiulla, a second year science student, was on his way home at 4. 30 pm to break his fast when Constable Ramesh from the Cubbon Park police station thrashed him, as a surprised crowd looked on.
I am not an expert on Islamic practices but even with my scant knowledge I know fast is broken after sunset and in bangalore sunset happens at 6.35 PM
Of course it might be a minor detail that the boy also punched the policeman. This is how Khalid Shafiulla, Mohammed's father puts
He then lost his temper and hit the policeman back
Then they go ahead and publish following picture. Not a word on how he got the bruises on stomach when the cop has only punched him on face. In fact, they quote the father saying "My son now has a broken nose and has bruises all over his stomach" which gives us an impression that all these injuries are result of cop punching him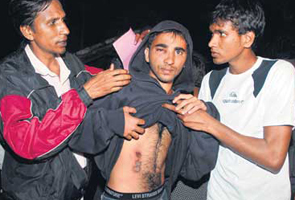 According to Mohammad Saifullah, a second PU commerce student and resident of Pillanna Garden was returning home from Baldwin's College, and removed his helmet to speak over his cellphone. Finding Saifullah without helmet, constable Ramesh (PC No 10731) attached to the Cubbon Park traffic police station who was regulating traffic at the junction, sprinted towards him.
"Seeing the constable, I got scared and was about to stop the two-wheeler when Ramesh suddenly intercepted and punched me brutally on the nose. I bled profusely and collapsed immediately. The blow was so severe that I lost control over the vehicle and it smashed into a nearby barricade of the Metro Rail. I have suffered swelling in the eyes and bruises on hands and legs," Saifullah told Deccan Herald.
So one thing is clear from Saifullahs statement itself. He was not waiting at traffic signal as NDTV wants us to believe.
Also, someone please help me understand how can someone remove his helmet & then speak on cellphone and all this while he is still riding the bike!
Deccan took the trouble to report polices version of story also
A Nagappa, ACP (Traffic Central), claimed that Saifullah was injured after hitting a nearby barricade of the Metro Rail. "He was speeding, and had not put on the helmet. He was also speaking over cellphone when the constable tried to stop him. In his attempt to flee, he lost control over the vehicle and rammed the barricade"
Screen Shot of NDTV report
Screen Shot of Deccan Herald